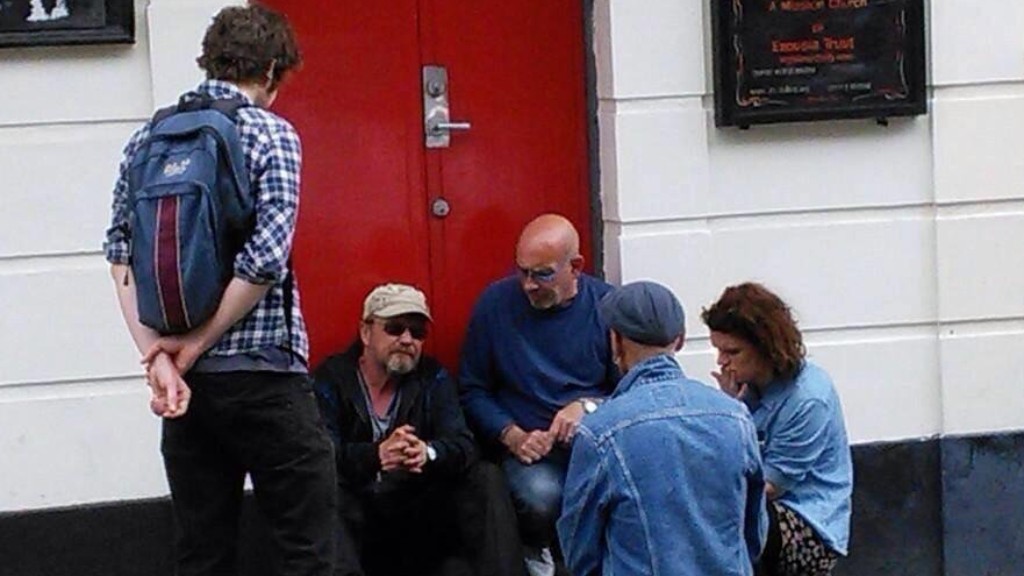 This month we have launched our 'One More Mile for Zac's Place' Just Giving Campaign to help raise additional support at a time when we are looking to make significant upgrades on the building and increase the level of activity and support we provide. The Just Giving platform enables individuals to easily arrange sponsored events for our cause and administer the donations, including reclaiming gift aid. To kick the campaign off, Zac's Place minister, Sean, will be running the Swansea Bay 10k on 19 Sept. 2021.
To find out more about the campaign and to support it visit https://www.justgiving.com/campaign/zacsplace
We love the picture above. It captures a moment several years ago in between rehearsals of a play written and produced by the Gritty Productions team, (who were behind the Swansea Living on the Streets series). This play brought together actors and artists alongside those sleeping rough to write and perform together. It was a remarkable experience and brought some insight how bringing creative expression and a commitment to tell a story well can have such a positive impact on people's lives.
We'd love to do more of that kind of stuff from our venue into the future. Feel free to help us go one more mile as we help others to do the same if you can.